ComboStrap Getting Started - How to configure the Favicons
Table of Contents
About
This page is an HowTo that shows you how to choose and install a favicon and your logo image with ComboStrap.
Steps
Choosing a icon logo
You can design your own logo but you can also be inspired by collection of logo
In our case we have chosen an icon directly from https://materialdesignicons.com/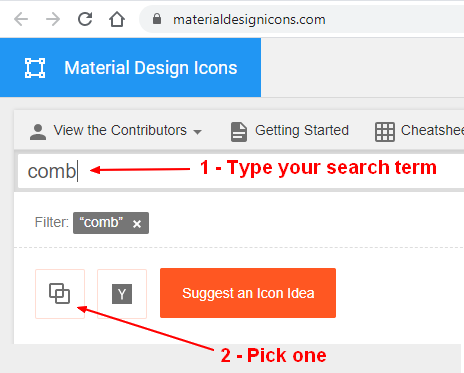 Download the Svg file and rename it to logo.svg
Go back in the Advanced Export and create a PNG with the biggest size
Generate the favicons
Upload the favicons
Then upload the below icon files with the

media manager

to the root location (ie DOKUWIKI_HOME/data/media/)

favicon.ico

favicon-32×32.png

favicon-16×16.png

apple-touch-icon.png

android-chrome-192×192.png (used in the

manifest

)

logo.svg
Example: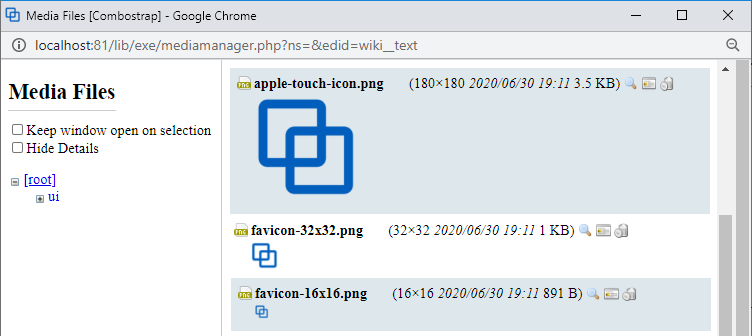 To see where and how you can use your logo, see the logo page.
Create the facebook default
facebook has a dimension constraint on the image illustration. The image should be at minimum 200px by 200px.
We recommend then that:
you create an image with your photo editor:
and upload it at the root of your media manager (next to the other logos)
The facebook page will tell your more about the specific of a facebook card.
Verify
Refresh and delete the Browser cache by hitting the key combination

Ctrl + Shift + R - Chrome

or Ctrl + F5 - Firefox

Check that you see your favicon

Next Step